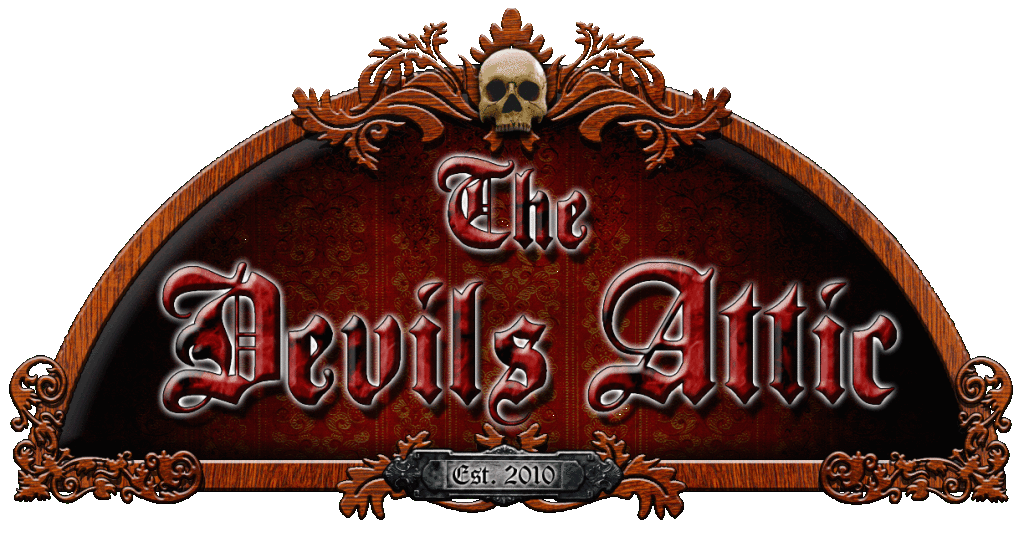 Disclaimer
The information contained in this website is for general information purposes only. The information is provided by The Devils Attic, and while we try to keep the information up to date and correct, we make no representations or warranties of any kind, express or implied, about the completeness, accuracy, reliability, suitability or availability with respect to the website or the information, products, services, or related graphics contained on the website for any purpose. Any reliance you place on such information is therefore strictly at your own risk.
In no event will we be liable for any loss or damage including without limitation, indirect or consequential loss or damage, or any loss or damage whatsoever arising from loss of data or profits arising out of, or in connection with, the use of this website.
Through this website you are able to link to other websites which are not under the control of The Devils Attic. We have no control over the nature, content and availability of those sites. The inclusion of any links does not necessarily imply a recommendation or endorse the views expressed within them.
Every effort is made to keep the website up and running smoothly. However,The Devils Attic takes no responsibility for, and will not be liable for, the website being temporarily unavailable due to technical issues beyond our control.
Terms & Conditions
If you continue to browse and use this website, you are agreeing to comply with and be bound by the following terms and conditions of use, which together with our privacy policy govern The Devils Attic's relationship with you in relation to this website. If you disagree with any part of these terms and conditions, please do not use our website.
The term'The Devils Attic' or 'us' or 'we' refers to the owner of the website. The term 'you' refers to the user or viewer of our website.
The use of this website is subject to the following terms of use:
1.) The content of the pages of this website is for your general information and use only. It is subject to change without notice.
2.) This website uses cookies to monitor browsing preferences, as covered below in our Privacy Policy labeled 'Use Of Cookies'.  You can disable the use of cookies in your browser settings if you wish, but we cannot guarentee that you will be able to use out site effectively.
3.) Neither we nor any third parties provide any warranty or guarantee as to the accuracy, timeliness, performance, completeness or suitability of the information and materials found or offered on this website for any particular purpose. You acknowledge that such information and materials may contain inaccuracies or errors and we expressly exclude liability for any such inaccuracies or errors to the fullest extent permitted by law.
4.) Your use of any information or materials on this website is entirely at your own risk, for which we shall not be liable. It shall be your own responsibility to ensure that any products, services or information available through this website meet your specific requirements.
5.) This website contains material which is owned by or licensed to us. This material includes, but is not limited to, the design, layout, look, appearance and graphics. Reproduction is prohibited other than in accordance with the copyright notice, which forms part of these terms and conditions.
6.) All trademarks reproduced in this website (such as other business logos for advertisement purpoises, etc.), which are not the property of The Devils Attic, have been  licensed to the operator for advertisements and links, are acknowledged on the website.
7.) Unauthorized use of this website may give rise to a claim for damages and/or be a criminal offence.
8.) This website includes links to other websites. These links are provided for your convenience to provide further information. They do not signify that The Devils Attic endorses the website(s). We have no responsibility for the content of the linked website(s).
Privacy Policy
The Devils Attic does not collect personal information about you when you visit our Web site unless you choose to provide that information to us. (in the event you were to email us or sign up for an email list through us).  Personal information is information that can be linked to an individual.
Our Policy guides how we collect, store, and use information and will be continuously assessed against new technologies, business practices and our visitor's changing needs. It is your responsibility to review this Privacy and Security Policy frequently and remain informed about any changes to it, so we encourage you to visit this page often.
The Devils Attic is committed to ensuring that your privacy is protected. Should we ask you to provide certain information by which you can be identified when using this website, then you can be assured that it will only be used in accordance with this privacy statement.
This Privacy Policy provides an explanation as to what happens to any personal data that you provide to us, or that we collect from you.
We may change this policy from time to time by updating this page. You should check this page from time to time to ensure that you are happy with any changes.
Information Collected and Stored Automatically:
Google Analytics is used on The Devils Attic and automatically gathers information about every visit to our Web site. That information is gathered and stored even if you do nothing during your visit but browse through our Web site, read pages, or download information. The information gathered does not identify you personally. This information is gathered and analyzed to make our site more user friendly and evaluate our sites effectiveness….. every website does this (in some form) to see how many people visit a site per day & what part of the world they are from. Only the following information about your visit is automatically gathered:
1.) The Internet domain from which you access our Web site. The Internet domain is the name of your Internet provider and is followed by a designation such as .com, .net, .org, .edu., etc. This is not your e-mail address.
2.) The IP address assigned to your Internet session. An IP address is a number that is automatically assigned to your computer whenever you access any part of the Web.
3.) The type of browser used to access our site such as, Microsoft Internet Explorer, Netscape Navigator, or another.
4.) The type of operating system used to access our site such as, Windows 2000, Windows ME, or another.
5.) The date and time you access our site.
6.) The pages of our site you visit.
7.) If you linked to our Web site from another Web site, the address of that Web site.
Use Of Cookies
Certain sections of the The Devils Attic Web site use "cookies" to store user information and enhance the user's visit. A cookie is a small string of text that a Web site can send to your browser. A cookie cannot retrieve any other data from your hard drive, pass on computer viruses, capture your email address, passwords or any other information. Cookies on our site identify which parts of our site have been visited, how long the visitors were there, what parts of the world they are from & what time of day the most visitors are here. This statistical data does not identify any personal details whatsoever. Cookies were originally designed to help a Web site distinguish a user's browser as a previous visitor and thus save and remember any preferences that may have been set while the user was browsing the site. If you are just browsing The Devils Attic Web site for the first time the site may take longer to load, but upon a revisit the site loads faster due to the cookie identifying you as a revisit. If you so wish, you can set your browser to inform you when a cookie is being placed and decide whether to accept the cookie. . Please note that should you choose to decline cookies, you may be unable to access particular parts of our website.
Our advertisers may also use cookies, over which we have no control. Such cookies (if used) would be downloaded once you click on advertisements on our website.
Use of Your Information
This site uses Google Analytics, as stated above in our ' Information Collected and Stored Automatically' section. The use of internet marketing data & general internet traffic data by Google falls under the Terms Of Use Policy of that entity.
For any reason that you sign up for a email list on our site or interact through an email that you have sent to The Devils Attic (thedevilsattic@hotmail.com) we will never share any information from emails with any third parties.
The information that we collect and store via email relating to you is primarily used to enable us to provide our services to you. In addition, we may use the information for the following purposes:
1.) To provide you with information requested from us, relating to our products or services.
2.) To notify you about any changes to our website, such as improvements or service/product changes, that may affect our service.
3.) If you are an existing customer, we may contact you with information about goods and services similar to those which were the subject of a previous sale to you.
Storing Your Personal Data
The transmission of information via the internet is not completely secure and therefore we cannot guarantee the security of data sent to us electronically and transmission of such data is therefore entirely at your own risk. Once again, we will only store your email & information you provide to us in our email account and this information will not be disclosed or shared.
Interactive Material
Portions of this site may allow (in the future) users to post their own material. The materials posted by users do not necessarily reflect the views of The Devils Attic. By posting materials to The Devils Attic Web site, you represent that you have all necessary rights in and to such materials, and that such materials will not infringe on any personal or proprietary rights of any third parties, nor will such materials be harmful, defamatory, unlawful, threatening, obscene, lewd, lascivious, harassing, or otherwise objectionable.
The Devils Attic reserves the right, at its sole discretion, to review, edit, or delete any material posted by users that The Devils Attic for any reason whatsoever determines may be harmful, defamatory, unlawful, threatening, obscene, lewd, lascivious, harassing, potentially in violation of any party's rights, or otherwise objectionable.
NOTWITHSTANDING THE FOREGOING, THE DEVILS ATTIC EXPRESSLY DISCLAIMS ANY RESPONSIBILITY OR LIABILITY FOR ANY MATERIAL COMMUNICATED BY THIRD PARTIES THROUGH THIS WEB SITE.
By posting public materials to the The Devils Attic Website, you authorize The Devils Attic to use, and authorize others to use, any such materials in any manner or medium.
Our Web site has links to the many other Web sites. Once you link to another site, you are subject to the privacy policy of the new site.
Your Consent
By using this site, you consent to the collection and use of information as outlined in the above documentation. If we decide to change our privacy policy, we will post those changes on this page so that you are always aware of what information we collect, how we use it, and under what circumstances we disclose it.
~Thank You For Your Time, The Devils Attic.